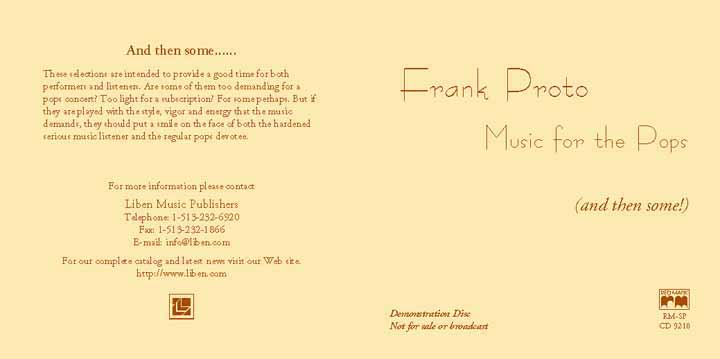 Music for the Pops (and then some!)
Red Mark CD-SP 9210 Demonstration Disc

Hear Audio Excerpts of the music

High quality orchestral music for symphony orchestra Pops Concerts with a contemporary, American sound is usually difficult to come by. The music on this demonstration disc was written with major orchestras in mind. Most of the selections were not meant for school, amateur or community orchestras, although they have been used successfully on more than a few occasions by some of those organizations. The pieces have been designed to challenge an orchestra both technically and musically. They have also been designed to be used over a long period of time and should not become "dated" after one or two seasons. Performance problems have been kept to a minimum. All of the selections fit the instrumental forces and character of the standard symphony orchestra. They are not blown up band arrangements with strings added. The description of each selection is sometimes followed by a Special Requirements paragraph. Usually the only special requirement is for a good rhythm section - a pianist who can read chord symbols and improvise, a jazz oriented bass player (electric or acoustic) who can do the same and a good drummer. Most orchestras have at least one bassist who has had a good deal of Jazz and Pop experience and a percussionist who is at home with a set of drums. Another frequently called for special is a brass or wind player who can improvise. Again, many orchestras have players who at some time in their musical lives played with jazz groups or big bands.While most of the music is written with the full orchestra sound in mind, solos for almost all of the principal players have been scattered throughout, from the oboe solo in Fantasy on the Saints to the cello solo in The Voyage that Johnny Never Knew.
- An American Overture

- A Carmen Fantasy for Trumpet and Orchestra

- Casey at the Bat

- Fantasy on the Saints

- Hamabe no Arashi

- Variations on Dixie

- The Voyage that Johnny Never Knew



Vol. 2 - Red Mark CD-SP 9215 Demonstration Disc
- Dear Friends and Gentle Hearts - A Portrait of Stephen Foster

- Solar Wind



For more detailed notes on the music click on each title above.

For a QuickTime Audio Sample of each piece click on the

icon to go to our
Soundpage.