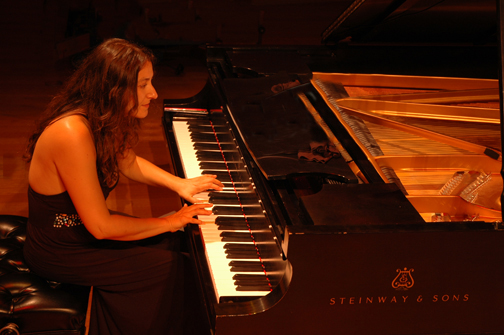 Marina Pacowski was born in Biarritz, France. She has many different sides to her artistic career: she is at once a classical and jazz pianist, actress, choral director, jazz singer with several groups and has performed throughout Europe and the United States. She studied with Ada Labèque, Alain Motard, Angéline Pondepeyre and Peio Çabalette and she perfected her technique with Bruno Rigutto, Margaret Singer, Cordelia Huberti, Serge Zapolski and the conductors Robert Delcroix and Dejan Savic. She won the Hanz Gabor Belvedere International Competition (Vienna, Austria) in the Coaching Singers Directory category shortly after being chosen as the Singers Coach Director for the Young Voices of the Rhine for the 2000/2001 season, as part of the National Opera of the Rhine's program. She also won first prizes in piano, accompaniment, chamber music, analysis and composition at the Conservatoires of Bayonne, Bordeaux, and Rueil Malmaison in Paris.
As a solo pianist, she premiered the piano concerto La Chambre d'Amour by Peio Çabalette, directed by Xavier Delette and subsequently played it with Thierry Malandin's CNN Ballet at Kursaal in San Sebastian, Spain, at the Musikaste Festival, at the Gare de Midi in Biarritz and at the Grand Théâtre de Saint Quentin in Paris. In 2014 she will premiere a concerto by the same composer, with the Orchestra of Bayonne and the Basque Coast, under the direction of Benjamin Levy.
As a singers coach director, she has been invited to the Royal Opera of Wallony in Belguim, the National Opera of the Rhine in France, the Coliseu of Porto in Portugal and the Oper Schenenberg in Switzerland, directed by Dejan Savic, Friedrich Pleyer, Marc Tardue, Stéphane Cardon and Guy Condette. She has also coached operas such as Bizet's Carmen, The Rape of Lucretia by Britten, Humperdinck's Hansel and Gretal and Lehar's The Merry Widow. As a chamber musician, her repertoire includes all of Schumann's oeuvre, Brahms, Messiaen, Debussy, Claude Bolling and the Beethoven Violin Sonatas as well as contemporary works by composers such as Français Peio Çabalette, Bernard Salles and the American composer Frank Proto.
As an accompanist, she specializes in the double bass repertoire. She loves the variety of musical genres that she can tackle alongside this instrument and adores meeting the different musicians who play it. Thanks to the luthier Christian Nogaro, who is also the artistic director of the International Double Bass Festival in Capbreton, she has been able to meet and play with world-renowned double bass players such as Thierry Barbé, who has become her regular musical partner, Wolgang Güttler, Giuseppe Ettorre, Alberto Boccini, Petrù Iuga, Dan Styffe and Bernard Salles. She experienced musical "love at first sight" with Catalin Rotaru, with whom she has played for the last three years and whom she considers her musical soul mate. She plays regularly with him in Europe and in the States, where she recorded Frank Proto's chamber music, directed by the composer.
A child of artists, Marina grew up listening to jazz, greatly influenced by her brother, jazz guitarist Alain Pacowski and bassist Hein Van de Geyn. She has performed at the French festivals Fugue en Pays Jazz in Capbreton, the Festival Jazz en Mars at Tarnos, singing and scat-singing over a bop repertoire, and the Latin-American Festival in Biarritz singing bossa nova repertoire. Also a passionate theatre lover, she created her own company, La compagnie 20 de la Luna, and also acted in the production Albert Cohen Variations for which she wrote the script. The premiere was a co-production of the town of Anglet and the National Theater of Bayonne and supported by their directors, Jérôme Poties and Dominique Burucoa. She has also acted with the theater company Le théâtre du Versant, playing the role of Clara Schumann in Clara and Robert Schumann - A Passionate Love, directed by Gael Rabas and in the musical, Brazilian Smoothie, about Brazilian music and poems, in which she performed with her jazz trio.
Back to Catalin Rotaru Plays Frank Proto DVD
Back to Frank Proto Concerto for Piano and String Orchestra
To CD Special