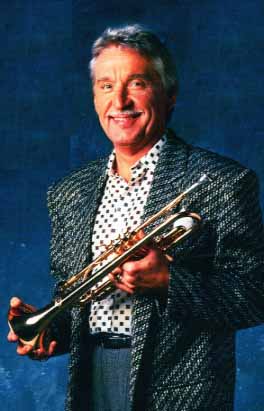 In the middle 1970s Frank Proto wrote an extended work on Georges Bizet's opera Carmen. It was written for an eight piece jazz ensemble that he led at the time, the Symphony Jazz Ensemble, and called Suite from the Opera Carmen. The suite, recorded on the QCA label, became very popular and was often requested wherever the group appeared - so much so that the Cincinnati Pops asked that he score it so that the group might perform it on their concerts along with the orchestra.
In 1986 trumpeter Doc Severinsen heard the recording and asked Proto to write a Carmen Suite for him so that he might feature his own five-piece jazz group with full orchestra. The Carmen Fantasy for Jazz Ensemble and Orchestra became a hit at his orchestra appearances receiving over 400 hundred performances during the following five years.
In 1989 Doc was planning a recording project with the Cincinnati Pops Orchestra. He requested another Carmen Fantasy from Proto, but this time rather than a jazz-oriented work he wanted something more traditional. Something that would feature him as the sole soloist with the orchestra. The Carmen Fantasy for Trumpet and Orchestra was recorded for Telarc and the CD "Trumpet Spectaculars" became one of the biggest sellers in the Cincinnati Pops catalog.
A Carmen Fantasy for Trumpet and Orchestra is a fine example of the orchestrator's art as well as a dazzling showpiece for trumpet soloist. The work begins with trumpet cadenzas in a flamenco style which are answered by orchestra material from the opera's prelude. As the soloist soars to a high A, the orchestra launches into the first set-piece - the Aragonaise - which serves as the prelude to act 4 of the opera.
The Intermezzo also begins with a freely-composed string introduction reminiscent of the opening prelude. This moody, idiomatic section then gives way to the serene melody from the act 3 prelude. In this movement, Proto experiments with the harmonies and rhythms of the original music without straying far from the work's basic character.
An oboe and an English horn open the third movement with the fantasy theme. The heroine's sensuality is insinuated by the oscillating harp figure and unusual string writing as the trumpet proclaims the famous Habañera melody in a series of virtuosic variations. A long cadenza of great rhythmic and melodic interest brings the work to a stirring conclusion amid the insistent castanets of the Aragonaise.
Orchestra
Catalog Information
Piano Reduction
Trumpet with Piano Reduction


Click to view a sample of the music