The Creatures in Room 642
for Trumpet, Double Bass and Percussion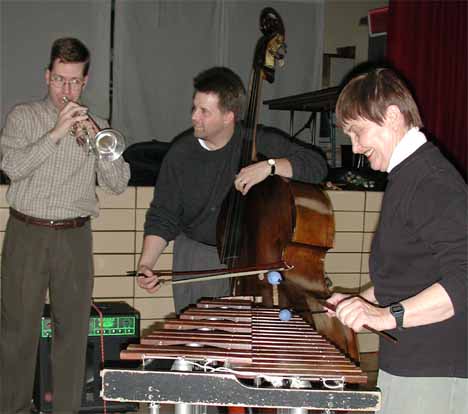 The Dayton Philharmonic Trio
A new recording by Frank Proto and Ensemble Sans Frontière featuring Film and Television star Jessicia Walter has recently been released. See the Red Mark CD Chamber Works 4 for details.
The Creatures in Room 642 is a special piece for young people. It was commissioned by the Dayton Symphony Orchestra for its in-school program. The piece features 3 musicians who demonstrate different styles of music in the context of a story that they tell to the children. The story revolves around room 642 in the school ( . . . up there on the top floor all the way down at the end of the hallway. It's that room where you're sent when you're causing too many problems in your regular class.)
Five different characters are depicted starting with the room itself ( . . . as we walk down the hall we already start to hear some strange sounds. . . ) to a very nasty teacher (. . . Miss Viola B. Slick is the toughest, the biggest, the meanest, the loudest, the most feared teacher at the school. and today SHE is in charge. . . ) to Beautiful Lindsey ( . . . I mean really beautiful. You know being beautiful isn't easy. She pays attention to all of the details. Things like color coordinated hair, nails, lipstick, toe nails.) and Carlo ( . . . the numero uno, baddest dude in the whole school) to other creatures ( . . . Not all the creatures in room 642 are human you know).
The Creatures can be adapted to almost any in-school situation from grade through high school. The most important requirement is that the musicians be totally uninhibited in their presentation of the text.
Go to Chamber Music Catalog
to purchase this item
Click to view or download a PDF sample of the music